Yves Saint Laurent Fall 2009 Collection
Collector Powder for the Complexion ($62.00)
Dedicated to a beautiful complexion, two natural shades illuminate the face: a universal, luminous peach to unify all skin tones in transparency, and an iridescent brown to heighten the cheekbones and sculpt the features. Fine, silky powders with radianceboosting pigments reflect the subtlest rays of light to glorify the complexion with a veil of luminosity - in the celebrated compact with the YSL monogram.
Palette Y (Limited Edition)
Cream Blush ($38.00)
N°1 – Velvety P

each (Limited Edition)

N°2 – Powdery Rose (Limited Edition)

N°3 – Silky Praline (Limited Edition)
Sheer Sensual Gloss Stick SPF 9 (Gloss Volupte) ($30.00)
N°1 – Iced Lychee

N°2 – Chilled Raspberry

N°3 – Frozen Cherry

N°4 – Frosted Plum
Silky – Sensual Radiant Lipstick SPF 15 (Rouge Volupte) ($34.00)
N°19 – Frivolous Pink

N°20 – Spicy Pink

N°21 – Vibrant Brown

N°22 – Exquisite Plum
Long-Lasting Nail Lacquer (La Laque) ($20.00)
N°39 – Stormy Grey

N°40 – Extreme Purple
Eye Shadow Duo ($41.00)
N°21 – Anise Green / Intense Plum

N°23 – Pearly Peach / Mink Brown
5 Colour Harmony for Eyes ($56.00)
N°7 – Bronze Gold

N°8 – Midnight
Luxurious Mascara for a False Lash Effect ($28.50)
Re-promoted Items
Rouge Volupte N°17 – Red Muse ($34.00)

Touche Eclat N°1 – Luminous Radiance ($40.00)

Faux Cils N°5 – Burgundy ($28.50)
Lancome Declaring Indigo Collection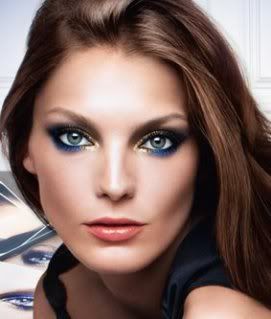 Ink Artliner ($23.50)
Brun Elegance

Indigo Charm

Noir Magnificence
Color Design Liberty Palette ($42.00)
Golden Audacity

Indigo Charm

Nude Elegance
Virtuose Divine Lasting Curves Mascara ($24.50)
Color Design Lipcolor ($22.00)
Berry Sensual

Paris Rouge

Rouge Liberty
Le Crayon ($22.00)
Berry Sensual

Rouge Liberty
Color Fever Gloss ($25.00)
Berry Glamour

Declaring Gold

Golden Rouge

Raspberry Glimmer

Rouge Magnificence
Le Vernis ($18.00)
Golden Audacity

Indigo Paris

Rouge Liberty
Blush Subtil ($29.50)
La Rose Liberte ($40.00)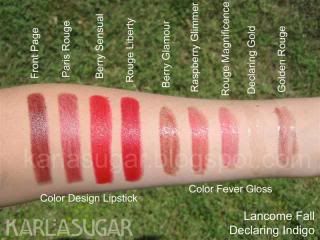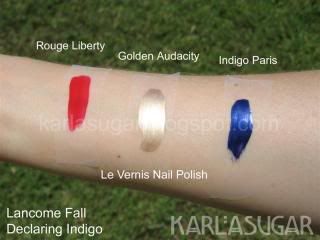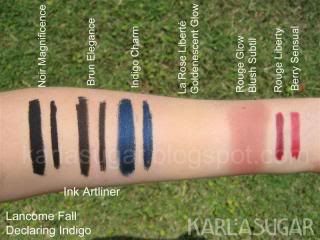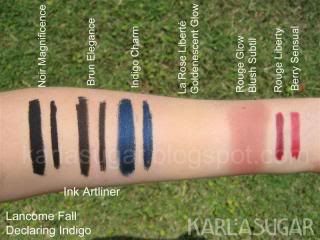 Guerlain Slavic Beauty Collection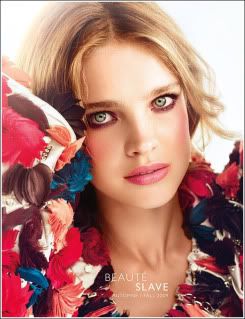 Volga Princess Palette for Eyes & Lips

Ombre Eclat in Tsarina (406)

Shadow in Brun Mordore (441) (Permanent)

Russian Doll Liquid Blush

Le 2 de Guerlain in Nuit 2 Boheme (51)

Rose Intense (14) Parure
Rouge G de Guerlain Lipstick
Graziella (44) Muted red pearl

Giovanna (67) Bright crimson pearl
KissKiss Baby Lip Balm
Cristal Nude (200)

Red Nude (220)

Honey Nude (240)

Rosewood Nude (241)

Romantic Nude (260)

Rosy Nude (261)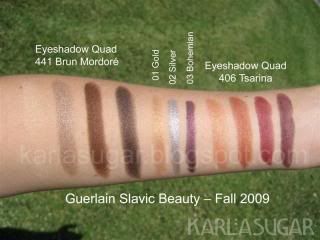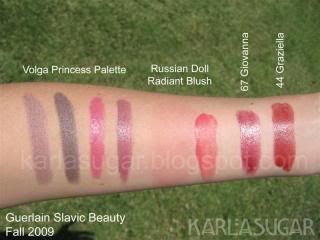 Givenchy Les Poetiques Collection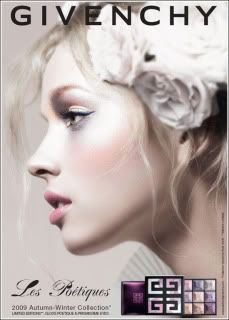 Limited Edition
Gloss Poetique in Poetique Rose
Prismissime Eyes in Poetique Browns, Poetique Blues
Base de Teint in Poetique Tulip
Poudre Libre in Poetique Orchid
Phenomen'Eyes in Poetique Grey Lavender
Parad'Eyes Liner in Poetique Lavender
Rouge Interdit Shine in Poetique Iris, Poetique Camelia
Le Vernis in Poetique Lily
Permanent
Photo'perfexion in Perfect Vanilla
Mister Light in Mister Milk
Mister Bright in Dawn Light
Lip Liner in Lip Litchi and Lip Pink
Eyebrow Show in Brunette Show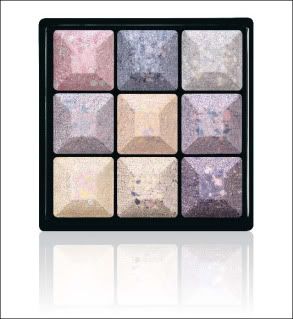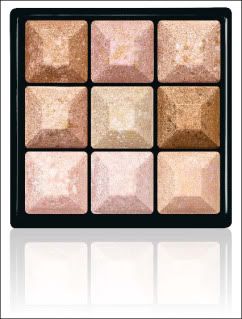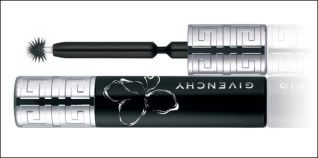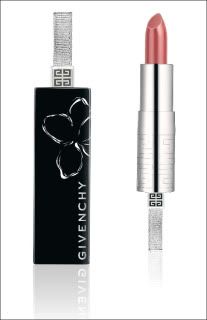 Dior Jazz Club Collection
1-Colour Extreme ($27.50)
5-Colour Eyeshadow ($56.00)
2-Colour Eyeshadow ($35.00)
Ultra-Gloss Reflect ($25.50)
Taffeta Plum (787)

Draped Burgundy (957)
Dior Addict Lipcolor ($26.00)
Neglige Pink (673)

Decadent Plum (943)
Crème de Gloss ($26.00)
Sweet Praline (431)

Rose Nectar (461)
Dior Vernis ($20.00)
Red Dahlia (671) (Sephora Only)

Black Plum (981) (Not Sephora)
Permanent
Brow Styler in Universal Brown ($28.00)

Diorliner in Plum ($31.00)

Dior Contour in Thrilling Plum ($26.00)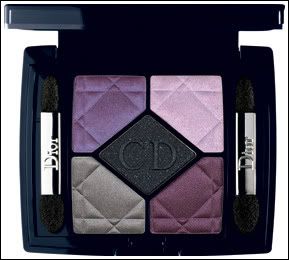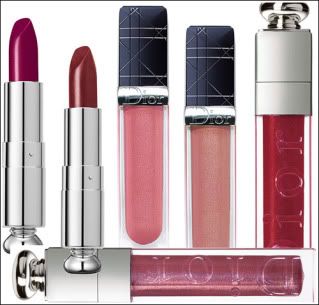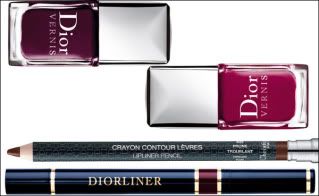 Stila Smitten with Kitten Collection
Kitten Smudge Pot ($20.00)
Our proprietary combination of pearls used to create Kitten are blended into a new Smudge Pot resulting in shimmering champagne. Wear it as an eye shadow primer, a shadow, liner or even a cheek and brow bone highlighter. Smudge-proof, water resistant, long-wearing and simply illuminating, day and night.
Kitten Lip Glaze ($22.00)
This Kitten is written in the stars with a pouty gloss that shimmers like the finest champagne. Raise a glass to your lips for a sophisticated shine, or touch it over any Stila lipstick for a dazzling effect. Long-lasting, non-sticky formula, enriched with vitamins A, C and E to moisturize and smooth without feathering, is kissably gorgeous.
Black Cat Smudge Pot ($20.00)
Forget about the superstition when this black cat crosses your path. Like a little black dress and a flute of champagne, this black gel liner is infused with an unexpected blend of Kitten shimmer and can be used for lining the lashes or blending on the lids. Smudge-resistant, precise, modern and darkly lustrous.
NEW Lip Enamel Luxe Gloss ($22.00)
Stila's NEW Lip Enamel Luxe Gloss made it's debut on the fall 09 Fashion Week runways and
quickly became a makeup-artist obsession. Who wouldn't be completely enamored with the
intense pigment, full coverage, long-wearing gloss that is ultra-shine, all the time? A formula like
no other looks like patent-leather on the lips. This high performance gloss is infused with life's greatest luxury… happiness. The formula contains rhodiola rosea, a botanical extract known to improve mood, working to optimize serotonin and dopamine levels in the brain. One application and you'll feel amazing almost instantly! Stila's Lip Enamel Luxe Gloss puts a smile on your face with stunningly lacquered, boldly beautiful, richly conditioned, luxurious lips. Lip Enamel Luxe Lip Gloss, in six chic shades, also conditions and moisturizes with an exquisite blend of antioxidants, essential oils and phenolic compounds.
Joy Deep red
Happiness Baby pink
Giggle Fuchsia pink
Nirvana Beige
Euphoria Berry
Ecstasy Wine berry

Laura Mercier Fresco Beauty Collection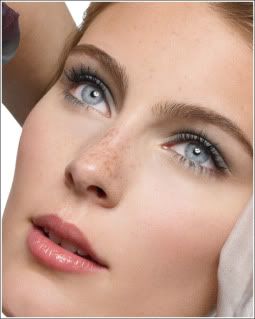 Creme Cheek Colour ($34.00)
Soft Apricot

Sienna Sunset
Eye Basics ($24.00)
Satinee Creme Eye Colour ($22.00)
Ecru Silk

Teal Cashmere (New)

Amber Velvet (New)

Pink Chiffon

Stone Suede
Cake Liner ($22.00)
Thickening & Building Mascara ($20.00)
Lip Watercolours Palette ($48.00)
Laura Mercier Limited Edition Lip Watercolours, inspired by a painter's palette, are comprised of universally flattering lip colours that compliment all skin tones. The customizable palettes offer highly pigmented colours designed to be applied with the fingertips.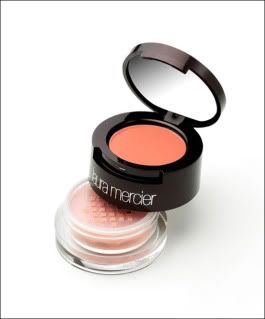 MAC Makeup Art Cosmetics Collection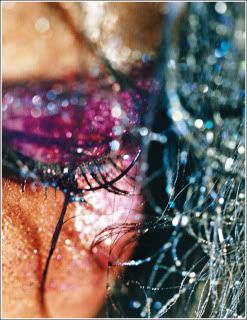 Lipsticks
: $14.00USD/$16.50CAD (LE)
Full Body - Deep red plum (Lustre)
Hold the Pose - Brown plum with gold pearlized pigments (Lustre)
Front Lit - Light white yellow (Frost)
Lovin' It - Cool neutral with yellow undertone (Lustre)
High Strung - Deep pink silver (Frost) (Permanent)
Lipglass
: $14.00/$16.50 (LE)
On Display - Purple yellow with pearlized pigments (Frost)
New Spirit - Light yellow coral (Frost)
Personal Taste - Mid-tone rose with pink and gold pearlized pigments (Frost)
Young Thing - Yellow Neutral with gold pearlized pigments (Frost)
Eye Shadow x 4
: $36.00USD/$43.00CAD (LE)
Photo Realism Quad
Photo Realism - Gold shimmer with gold pearlized pigments (Frost)
Fresh Approach - Cool mint green (Veluxe Pearl)
Image Maker - Mid-tone grey green (Frost)
Grey Range - Deep blue green (Veluxe Pearl)
In The Gallery Quad
Lightfall - Pale Pink (Satin) (Repromote from Cult of Cherry 2008)
Look at the Eyes - Light violet (Frost)
In The Gallery - Mid-tone blue pink (Matte)
Private Viewing - Deep brown plum (Matte)
Notoriety Quad
Skintone 1 - Light white pink (Lustre)
Skintone 2 - Mid tone gold (Frost)
Notoriety - Mid tone brown with gold pearl (Velvet)
Rich & Earthy - Rich coral bronze (Veluxe Pearl)
Plush Lash Mascara
: $13.00USD/$15.50CAD (Permanent)
Plushblack - Black
Powder Blushes
: $18.50USD/$22.00CAD (LE)
The Perfect Cheek - Mid-tone pale pink (Matte)
Notable - Mid-tone brick brown red (Satin)
Eye Shadows
$14.50USD/$17.00CAD (LE)
Crest The Wave - Rich yellow frost (Frost) (Repromote from Stowaways 2008)
Off the Page - Mid-tone mustard orange (Frost)
Haunting - Light turquoise blue (Satin) (Repromote from McQueen 2007)
Violet Trance - Deep blue purple (Matte) (Repromote from Balloonacy 2007)
Purple Shower - Medium-tone magenta with silver pearlized pigments (Satin) (Repromote from Turquatic 2006)
Maira's Magic - Yellow pink (Satin)
Technakohl Liners
$14.50USD/17.00CAD (LE)
Full of Fuchsia - Deep blue magenta (Frost)
Artistic License - Bright turquoise blue (Frost)
Colour Matters - Bright lime (Cream)
Obviously Orange - Dirty coral (Frost)
Graphblack - Rich graphic black (Cream) (Permanent)
Pigments
$19.50USD/$23.00CAD (LE)
Brash & Bold - Bright magenta (Frost)
Push the Edge - Deep bright purple with pearlized pigments (Frost)
Cocomotion - Mid-tone gold bronze with gold pearlized pigments (Frost) (Repromote from Rushmetal 2007)
Heritage Rouge - Mid-tone brown plum (Frost) (Permanent at Pro Stores)
Glitter
$19.50USD/$23.00CAD (Permanent at Pro Stores)
Fuchsia - Sparkling fuchsia
Gold - Sparkling chunky gold
Reflects Glitters
$19.50USD/$23.00CAD (Permanent at Pro Stores)
Reflects Rust - Sparkling warm red
Reflects Copper - Sparkling saffron
Gloss Texture
$18.00USD/$22.00CAD (Permanent)
Clear Gloss - Clear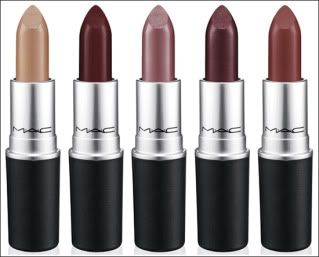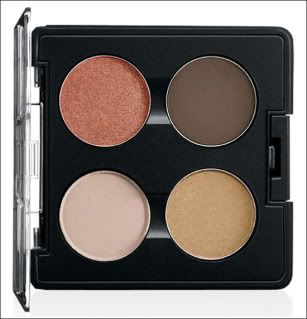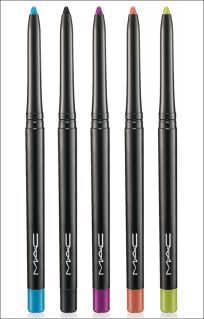 Link : specktra.net, temptalia.com
Tell me your thoughts on the fall collections - Which one do you like best ? Which doesnt really grab your attention ? Why ?