Estee Lauder Sensuous Gold Collection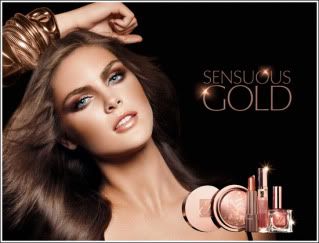 Signature Eyeshadow Quad ($35.00)
Shimmer Powder ($36.00)
The new way to glow. Baked, marbleized powder, lit with shimmering gold, adds a sheer, luminous aura. Luxurious brush sweeps and blends the perfect amount over every curve of your face and décolletage.
Signature Hydra Lustre Lipstick ($19.50)
Rose Amethyst

Plum Amethyst

Plum Terracotta

Cinnamon
Pure Color Multi-Shimmer Gloss ($18.00)
Pure Color Nail Lacquer ($18.00)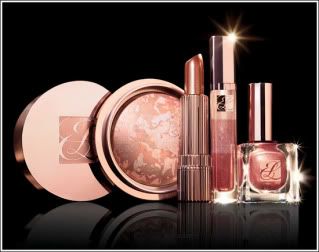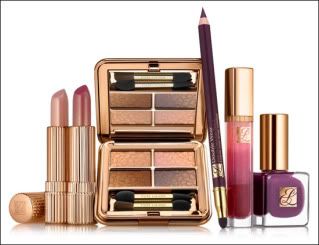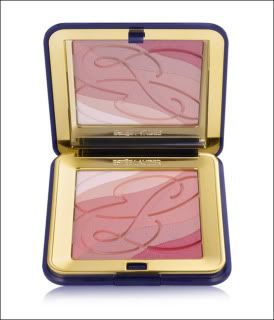 Smashbox Reign Collection
Eye Shadow Palette ($42.00)
Majesty Peach champagne, plum burgundy, black
Monarch Light gold, bronze, taupe trio
Jet Set Palette ($48.00)
Matte black/dark brown, Gold and metallic brown liner duos
Fusion Blush ($32.00)
Lash DNA Mascara ($19.00)
Lip Gloss ($18.00)
Crowned Sheer peachy pink
Doubletake Lip Color ($22.00)
Amaretto Pinkish nude/warm nude
Currant Deep plum/dark cherry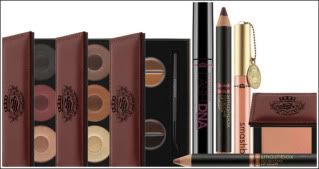 NARS Lolita Collection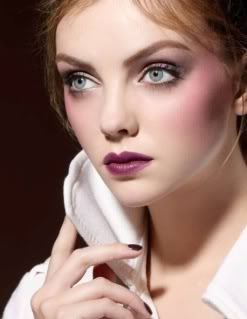 Eyeshadow Duos ($32.00)
Brumes Gray-brown / Navy blue
Indian Summer Sparkling gold / Sunny yellow
Silk Road Light tangerine-peach / Dirty pink with gold sparkle
Single Eyeshadow ($22.00)
Mekong Rich, chocolate brown with gold pearl
Lipstick ($24.00)
Fast Ride Dark, black-red
Nail Polish ($16.00)
Tokaido Express Purple wine with gold shimmer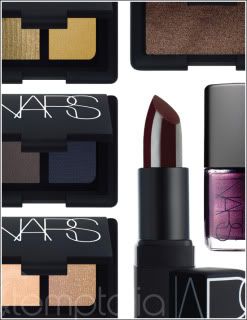 Chanel Venise Collection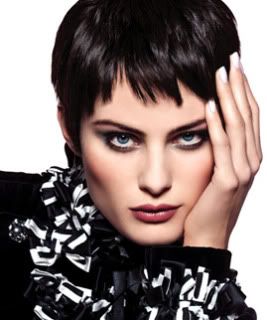 Eye Gloss ($65.00) (Limited Edition)
Luminous cream quadra eyeshadow in pearl, gold, black, red-black
Les 4 Ombres / Quadra Eyeshadow ($56.00)
Murano Moss, pink, seafoam, green shimmer
Irreelle Duo / Silky Eyeshadow Duo ($40.00)
Poudre Douce / Soft Pressed Powder ($50.00)
Jouse Contraste / Powder Blush ($42.00)
Les Tissages de Chanel / Blush Duo Tweed Effect ($45.00)
Tweed Sienna Earthy Bronze
Rouge Allure / Luminous Satin Lip Colour ($30.00)
Instinctive Pink nude
Comedia Rose
Intuitive Pink brown
Amusing Rosewood
Captive Brown
Clandestine Brick
Levres Scintillantes / Glossimer ($27.00)
Arlequin Gold
Courtisane Pink
Le Vernis / Nail Colour ($23.00)
Intermezzo White pearl
Gondola Maroon shimmer
Le Crayon Levres / Precision Lip Definer ($28.00)
Le Crayon Sourcils / Precision Brow Definer ($28.00)
Blond Clair Blonde
Cendre Noir Black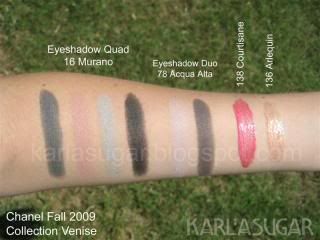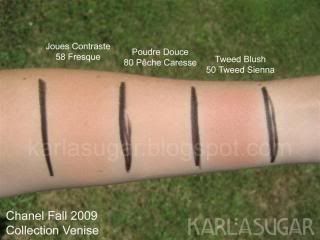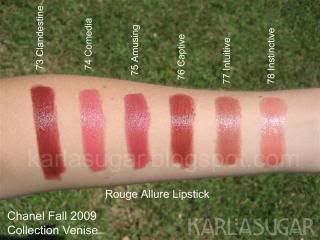 Bobbi Brown Ivy League Collection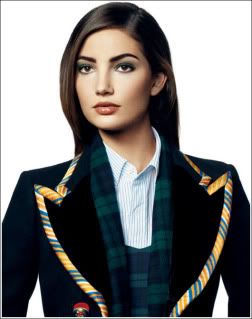 Creamy Eye Pencil
Jet

Walnut

Charcoal

Caviar

Hunter

Midnight

Brown Plum

Mahogany

Dusk
Lip Crayon
Honeysuckle

Coral Pink

Raisin Berry

Posey

Dusty Nude

Wild Rose
Long-Wear Gel Eyeliner
Eyeshadow
Golden Leaf Shimmer Wash Eye Shadow

Bash Metallic Eye Shadow
Brush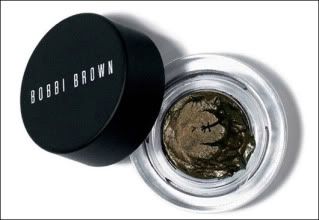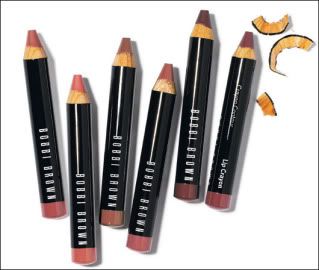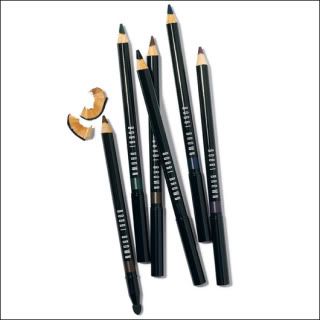 Urban Decay Fall Collection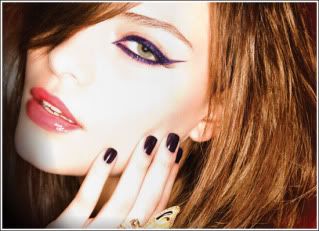 Ink for Eyes ($22.00)
It's everything you want in a cream eyeliner! More precise than a pencil, more forgiving than a liquid, this super-smooth formula offers more control, play time, and buildable coverage than your average liner. Create razor-sharp lines or smoky bedroom eyes… the creamy formula and double-ended applicator make it easy. Try the angled liner brush for precise details, or use the smudger for blending and drama. With such a wide variety of intriguing shades and ways to apply, you're only limited by your imagination. (Cheesy, but true.)
Binge Midnight blue
Demolition Brown
Empire Eggplant
Loaded Deep green
Pyrotechnics Iridescent glitter, clear base
Zero Black
24/7 Glide-On Lip Pencils ($16.00)
Paranoid Dark pinky nude
Wallflower Medium nude
Deluxe Eyeshadow ($18.00)
Freakshow Deep purple with red sheen (Shimmer)
Frigid Deep purple with blue sheen (Shimmer)
Ruthless Pale sandy taupe shimmer (Shimmer)
Lipstick ($22.00)
Confession Deep burgundy
Naked Creamy pink nude
Oil Slick Glossy black infused with microsparkle
Brightening Complexion Primer Potion ($30.00)
Dull skin? Fine lines? Disappearing foundation? Try Brightening Complexion Primer Potion under foundation (or alone!) for beautifully moisturized skin that looks brighter and feels tighter. This lightweight, oil-free, paraben-free formula includes buzz-worthy ingredient Matrixyl 3000, celebrated for its ability to reduce the appearance of wrinkles. Hyaluronic Filling Spheres also minimize the look of fine lines while leaving skin beautifully moisturized. Your skin will look youthful, lifted and firm, and your foundation will apply smoothly, evenly, and last longer! Ideal for complexions that need moisture, and great for mature skin. But, our Brightening formula gives every skin type a healthy glow.
Pore Perfecting Complexion Primer Potion ($30.00)
Smooth on a little Pore Perfecting Complexion Primer Potion before foundation (or alone!) to totally minimize the look of pores and fine lines. The velvety, paraben-free formula flashes down to a soft-matte finish, without the greasy, heavy feel sometimes associated with foundation primers. The result? Flawless skin with an airbrushed look and feel. Foundation applies smoothly, evenly, and won't fade away. Ideal for oilier skin, but dry complexions who want pore perfection will love it, too. The convenient squeeze tube includes a twist-up dispenser (like school glue!) for easy portion control.
Lip Primer Potion ($20.00)
Prepare your lips for the day ahead. Our invisible primer lays a silky foundation for your favorite lipstick or gloss. Color is truer, applies smoother, lasts longer, and will not fade or feather. The easy-glide formula feels velvety-soft, without the drying feeling often associated with long-lasting lip color. The formula includes SPF 15 (yay!) and moisturizing Vitamins A, C and E for a primer that protects and perfects. And, our pretty roll-up tube and slanted bullet make for precise, easy application.
Eyelash Primer Potion ($17.00)
Wave this magic wand before your favorite mascara for lashes that appear thicker, longer and stronger… right before your very eyes. Tiny fibers band together, cling to every lash, and construct towers of Babel… reaching for heavenly lashes. Just apply Eyelash Primer Potion, then apply your favorite mascara as usual. Your lashes will look fake, but the magic is real. Our protein-rich and paraben-free formula conditions, fortifies, and thickens lashes with Silk Protein, Panthenol, and Hydrolyzed Wheat Protein.
Surreal Skin Cream-to-Powder Foundation ($34.00)
Illusion Fair
Nirvana Fair/light
Dream Light
Supernova Light/medium
Trance Medium
Hallucination Lightly tanned
Vision Olive
Mirage Dark olive
Surreal Skin Mineral Makeup ($29.00)
Trippy Deep golden
Destiny Deep bronzy brown
Fortune Deep reddish-golden
Fantasy Dark copper brown
Shu Uemura Primitribe Collection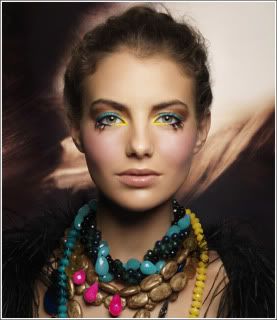 Painting Liner ($24.00)
Citrine Bright sunshine yellow
Spinel Medium pink
Turquoise Bright aqua-blue
Pressed Eyeshadows ($20.00)
M Beige 800

M Beige 802

M Beige 804
Primal Color Stick
Blazed Gold

Misty Grove

Night Maroon

Rich Earth
Primal Mix Eyelashes
Primal Mix Blush
Rouge Unlimited ($23.00)
Link : chanel.com, temptalia.com, karlasugar.blogspot.com, themakeupgirl.net , smashbox.com